In the Northeast of the Island Sri Lanka branch Hotel Ypsylon Resort East coast is situated. The Resort, located at the mouth of the Irakkandu River adapts perfectly to the nature reservoir behind it.
The slightly raised rooms are located on the ground floor parallel to the varied fish lagoon.
The idyllic and extensive complex is surrounded by splendid vegetation. The endless white and wide sandy beach is only about 200 meters away. Our diving school is located directly at the only Underwater National Park of Sri Lanka " Pigeon Island" .
A daily shuttle service brings our guests in just 5 minutes to the dive center. Furthermore the Ypsylon offers an "a la carte" restaurant with national and international dishes. The Ypsylon Resort is a family-run business under German management.

On our extensive grounds, our guests have access to a total of 10 spacious rooms with a direct view to the lagoon of the breathtaking nature reservoir. Our extended and idyllic garden invites you to sunbathe and linger.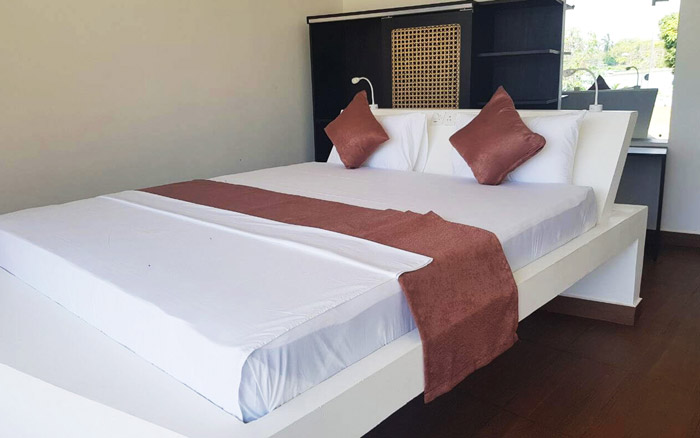 Each room has its own furnished large terrace with a direct lagoon view. This can also be enjoyed from the bed, as the rooms are equipped with windows from the ceiling to the floor.
The rooms are comfortable and relaxed. They feature self-controlled air conditioning, ceiling fan, king-size bed with spring mattresses, wardrobe, shelves, mirror, table and seating. Each of the rooms has its own bathroom with large shower, toilet, bidet, mirror and shelves.
Hot water is processed through own solar panels. The rooms are approximately 28 square meters and fully tiled.

Prices in Sri Lankan Rupees LKR per person per night. Check in available 1 pm onwards, check out 11am. Children under 12 years of age will be provided with a separate bed in the parent's room (meals will be charged extra).
Season 15th June to 15th September
Price per person in LKR:
Single room, incl. half board: 12250,-
Single room, breakfast only: 10500,-
Price per person in LKR:
Double room, incl. half board: 8000,-
Double room, breakfast only: 6250,-
Season 16th September to 14th June
Price per person in LKR:
Single room, incl. half board: 7750,-
Single room, breakfast only: 6200,-
Price per person in LKR:
Double room, incl. half board: 5425,-
Double room, breakfast only: 3875,-

Our spacious restaurant offers plenty of space for all guests and is located on the ground floor of our main house. It is an open area so you can enjoy the wonderful view of the lagoon from every seat. Other seats are located directly near or on the water.
Directly on the lagoon our guests have more tables available. Free Wi-Fi access is available 24 hours in the restaurant and lobby.
Our restaurant is open daily from 7am to 11pm. Hot meals are served from 11am to 10pm. We offer both international and national dishes. The food is prepared with fresh ingredients, mostly from the cultivation of the neighbouring environment.
Our bar is open daily from 11am to 11pm. For events we can arrange extended opening hours.
A view into our menu card
Breakfast is served from 7 am until 10.30 am The kitchen is open from 11am to 10pm.
Pot of Tea or local coffee, bread basket, butter, tropical fruit jam, freshly squeezed juice (seasonal varieties). Variety of eggs – and curd dishes or muesli / cornflakes to choose from.
Pot of tea or coffee, freshly squeezed juice. Homemade breakfast is served daily, and includes dishes such as roti, chapati, hoppers, naan, dosai, various curries or red rice pudding. The flavours vary from sweet, fruity or spicy.

Traditional local dish. Choice of fish, meat or chicken and seasonal vegetables, prepared with local spices in coconut milk, served with rice, pappadam and their own chutney.
Straight from the lagoon on the plate, grilled in garlic butter, served with mixed salad and cocktail sauce.

The tastiest curd cheese in the world
Homemade curd made from local water buffalo, refined with palm honey.
Schnitzel or Bockwurst with homemade potato salad.

What would be a stay in Sri Lanka without exploring the cultural and scenic highlights of this fantastic island.
We conduct day trips with our own fleet of vehicles providing English-speaking drivers in order to explore numerous places of your interest. One can conduct their own individual journey & discuss the desired route with our guide we are glad to provide a few hints on how to spend your valuable days of the year. The following destinations of outings stand out as the most popular places of interest.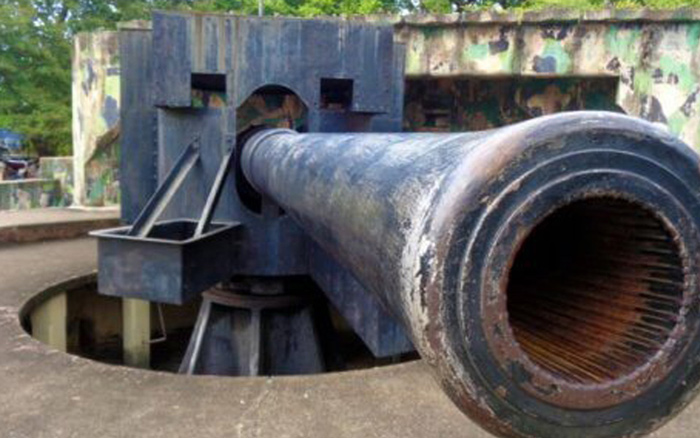 Hoods Tower Museum
Interesting war museum of the Sri Lankan Navy on the peninsula Ostenburg. Before the island may be entered a permit must be obtained directly from the Navy.
Survila Mangala Raja Maha Vihara
Belongs to Unesco World Heritage Site. Built about 200 years BC Under King Kavantissa. The Dagoba is said to contain holy bones of Lord Buddha and was rediscovered only in 1922. Extensive restorations have taken place, so that a reopening ceremonial took place in 2009 with high-ranking believers.
Koneswaram Hindutempel
Has a beautiful location with great sea views and Trincomalee. The colourful temple was faithfully reconstructed in 1963 and is home to many colourful scenes about the work of Lord Shiva. The Portuguese destroyed the original temple in 1622.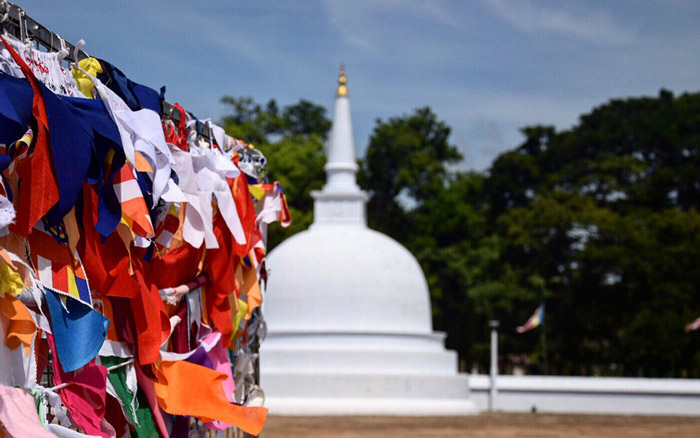 Sri Pathrakali Amman Tempel
Very colourful and interesting temple in the middle of Trincomalee. Funky ceilings and sculptures. The temple is dedicated to the goddess of war Kali.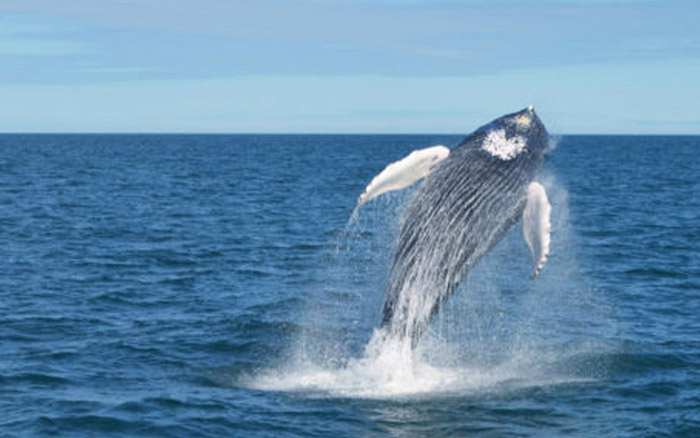 Dolphin- und Whale watching
Dolphin or whale observation tours for blue and sperm whales is the season on the east coast from April to October. You can see dolphins all year round. The approximately 3 hour journey starts early in the morning directly from the resort.
Elephants in the wild
Elephants in the wild, just a few miles from our resort, elephants come every day to drink at a reservoir that was created hundreds of years ago. Departure at 5pm until dark.
Multi-day cruises
The multi-day itineraries are individually bookable and can be organised. According to individual requests.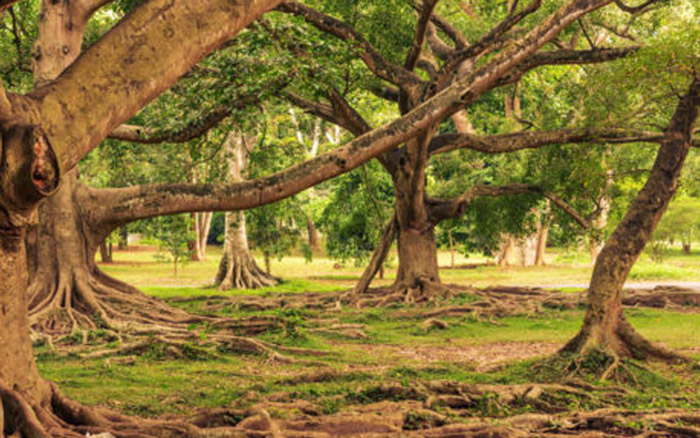 Kandy
Botanical Garden Peradeniya and Incredible varieties and lush vegetation are to be admired here.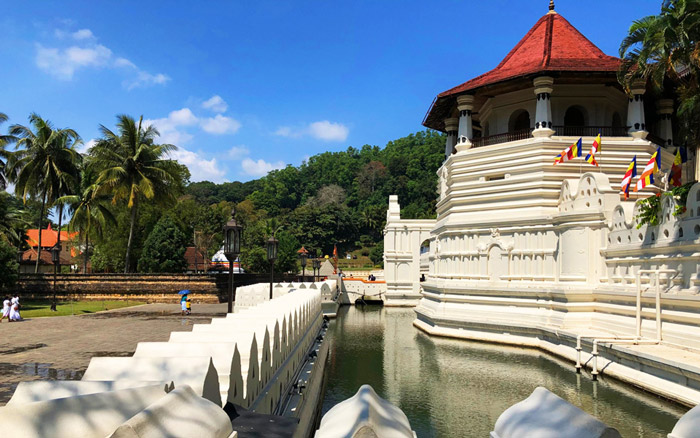 Kandy City
Beautifully situated city in the heart of the country, center of Buddhist-Singalian culture, in the last royal city on the Mahaweli river, the temple of the Tooth is the most sacred relic of Buddha.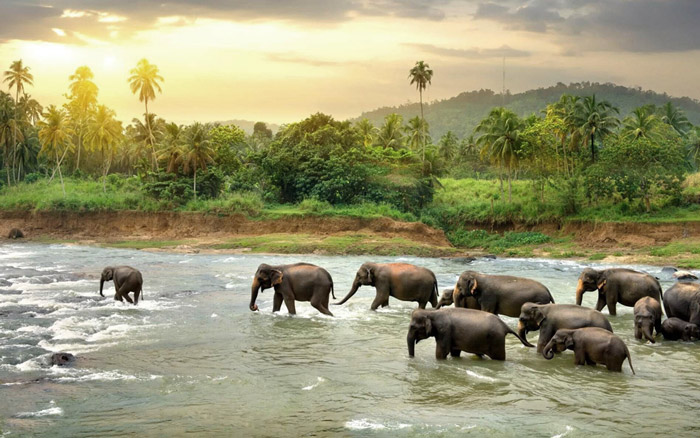 Pinnawela
Look at an elephant herd while bathing or give the milk bottle to one of the small babies.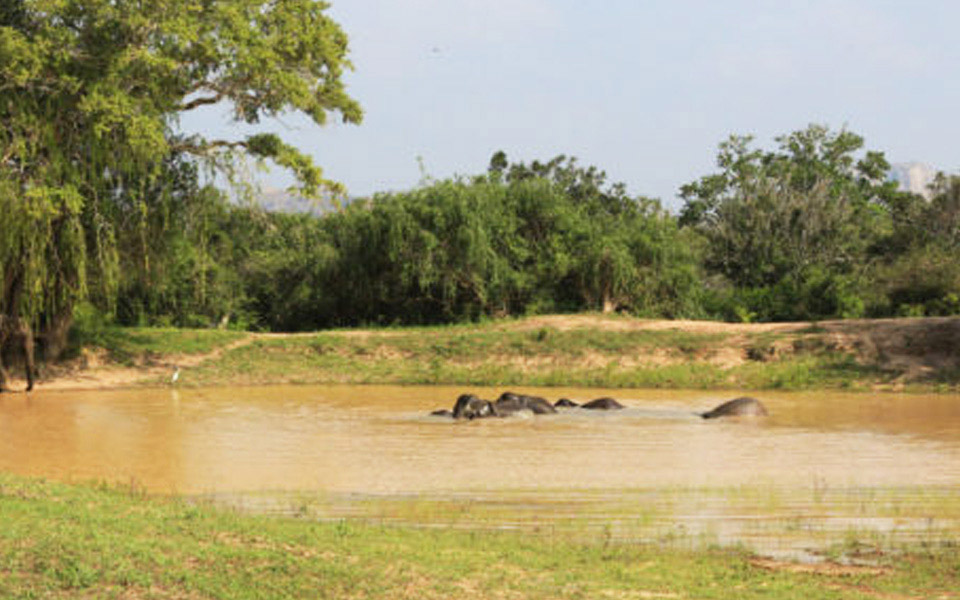 Minneriya National Park
Consists of georgeous evergreen forest and bushes. It is home to elephant herds, sambar deer, leopards as well as huge bird swarms. The watering hole of the park was build around 300 BC. by King Mahäsena and is the meeting meeting place in the dusk of all species it offers a breathtaking natural spectacle.
Adam's Peak
2243m high, as a holyly honored mountain and strongly visited place of pilgrimage of pilgrimages of all religions of the island. The elevation on the summit is revered as the footprint of Buddha.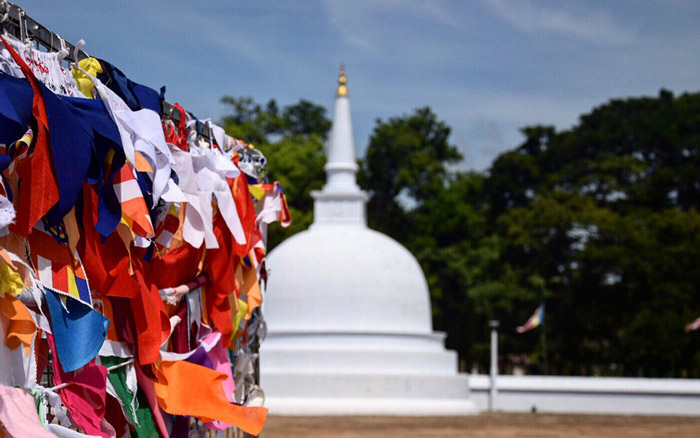 Anuradhapura
The oldest Sinhala capital (founded around 380 BC), has a large number of well-preserved or restored sacred sacred, sacred, Buddhist and secular monuments, which are located in the historical, sacred city.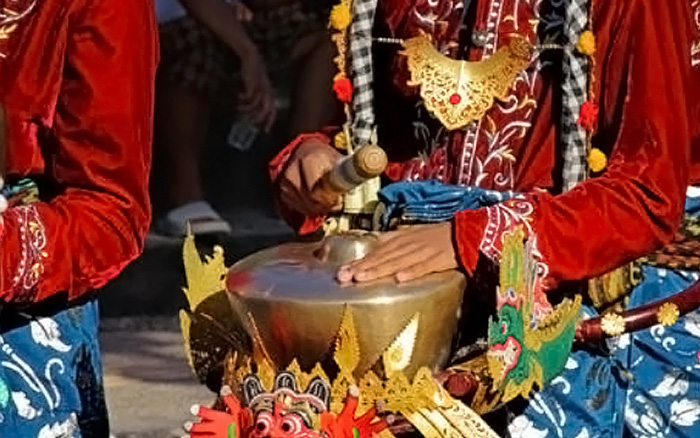 Kataragama
Hindu and Buddhist pilgrimage place in honor of the god Skanda (shrine 3rd cent. V. Chr.), Special religious ceremonies e.g. Fire racing is practiced here.
Dambulla
Known through its five ancient Buddhist cave temples built in a large column of an isolated towering rock mass about 100m above the surrounding terrain. 100 Buddha statues, ceiling paintings and various Hindu deities.
Nuwara Eliya
"Above the clouds", the highest populated place of the island, around 1900m, in the cool tropical climate, formerly colonial British summer city, often covered in fog and clouds.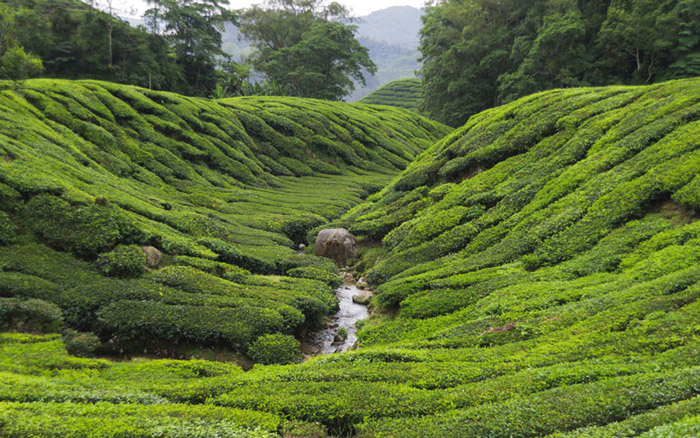 Horton Plains
Airy solitary elevation at 2100 m, unusual altitude vegetation, lined with a charming mountain landscape.
World's End
Steep, approximately 600m deep rock face on the southern edge of the Horton Plains, rare mountain fog forest.
Ratnapura
"City of precious stones"; Precious precious stones such as sapphires, amethysts, aquamarines, tourmalines or topas. Sri Lanka is considered one of the largest gemstone suppliers in the world. The grinding and polishing of the blanks still takes place today with modest means.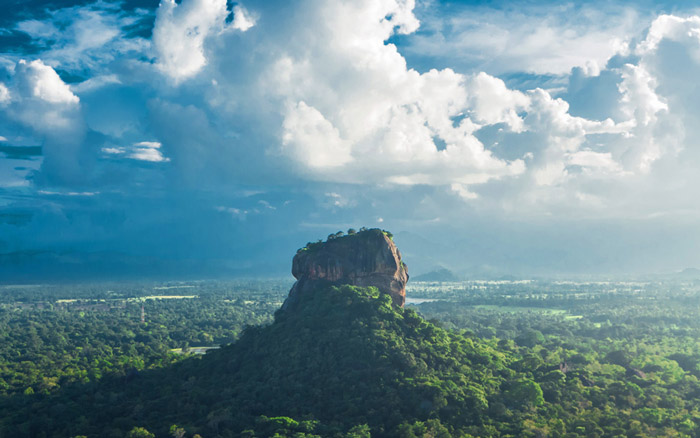 Sigiriya
World-famous frescoes of the so-called cloud girls from the late 5th century. On the 200m high Löwenfelsen are the ruins of the Himmelsburg of King Kassapa erected as a Schutzburg.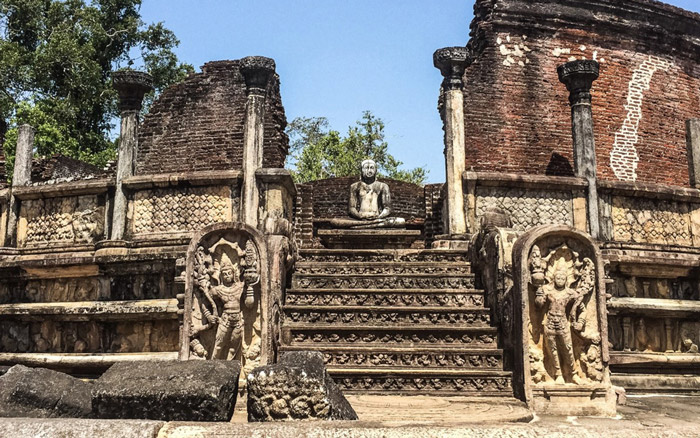 Polonnaruwa
Second largest city, numerous buildings from the 11th – 14th century. The largest monument is the monumental group of four oversized Buddhist temples in various attitudes, including the 14m long standing Buddha standing 7m tall.

The Indian Ocean offers a world of species of rich fish, at approximately 29 degrees pleasant water temperature, which is extremely popular among its bathers. Visit the almost untouched northeast coast of Sri Lanka. White, wide, almost endless beaches that you can enjoy without mass tourism alone.
The only underwater national park:
A likewise untouched, intact underwater world awaits you for diving among healthy reefs, soft and hard corals, as well as various species rich of fish.
We are stationed at the popular 40-year-old, refurbished Nilaveli Beach Hotel on the 13th milepost directly across from Pigeon Island. With a 200 m. wide beachfront we are with our base a bit hidden in the shady garden of the complex.
Every day at 9 o'clock our first journey to two-tank-dive starts. Further dives are planned individually and as required. Our friendly employees also welcome late risers to a first informational discussion at any time. The main season is from 1.4. until 30.10. In the months of June to September, however, a prior reservation is advisable.
Just 10 minutes from the base you can discover more than 100 different creatures in the sea. Ideal for beginners in shallow water around Pigeon Island. For advanced divers we visit dive sites like Swami Rock or Irriyakkandu Wreck.
We are equipped with 2 six-seater speedboats. We use vending machines + jackets from Scubapro as well as Bauer compressors. First aid bags with oxygen, GPS and mobile phone are always on board.
For non-divers we offer snorkelling gear, kayak, paddle boat, dolphin and whale watching tours. Body boards, Jet Ski, banana boat and tube can also be ridden here. Diving on our doorstep, or with dive boats in 15 of Sri Lanka's most beautiful dive sites.
Taster Diving (minimum age 10 years):
2.500,-
Check dive:
2.500,-
A trip with 2 dives and your own equipment:
10.000,-
A trip with 2 dives with rental equipment:
12.000,-
A trip with 1 night dive with your own equipment:
7.000,-
A trip with 1 night dive with rental equipment:
8.000,-
Already from the age of 10 years we can train and educate non-divers according to the guidelines of PADI and SSI. *Prices in Sri Lankan Rupees LKR per person. With the purchase of a 10er package the 11th dive is free.
DSD Discover Scuba Diving, half day program, theory, pool plus 1 dive in the sea up to 12 meters depth:
12.000,-
The certificate allows diving up to 12 meters only when accompanied by a diving instructor. SD Scuba Diver, 2 x day program, 3 modules theory, pool, 2 open water dives.
SSI:
35.000,-
PADI:
42.000,-
OWD Open Water Diver, 4 x day program, 5 modules theory, pool, written exam, 4 open water dives. The certificate allows individual diving with another OWD up to a depth of 18 meters.
SSI:
52.500,-
PADI:
59.500,-
AOWD Advanced Open Water Diver, 3 x day program, theory, plus 5 special dives, The certificate allows the diver to dive up to 30 meters deep.
PADI:
50,750.-
Rescue, Divemaster or special courses on request. Diving courses including logbook and certificate.
Already from an age of 10 years we can train non-divers according to the guidelines of PADI and SSI. *Prices in Sri Lankan Rupees LKR per person.